Community Reviews
Home

Home This is where you can find all the blog posts throughout the site.

Categories

Categories Displays a list of categories from this blog.

Tags

Tags Displays a list of tags that has been used in the blog.

Bloggers

Bloggers Search for your favorite blogger from this site.

Archives

Archives Contains a list of blog posts that were created previously.
My Heroes: Why I Love Miles Morales
Let me give you some back story. The Ultimate Universe, Marvel's alternate universe line of comics, killed of Peter Parker.
Farewell, brave hero. Farewell.
MJ, Aunt May and Gwen Stacy Carnage were devastated. Norman died in battle in a final battle with Peter. And the Ultimate Universe stood reverently at his funeral. All in all, a hero's goodbye.

But the mantle of Spider-Mn would live on. A young boy found himself bitten by a genetically altered spider. He can crawl on walls, has super strength, can turn invisible and electro-shock people. And he's doing all this at thirteen years old.
 Yep, My Heroes is making its comeback with an article about Miles Morales, the All-New Spider-Man.

Miles appeared about a year ago. I got into his series when I saw the first story arc collected in trade form. I read it while I was on my family's New York car trip. And I fell in love with the character.

Miles is a scared little kid. He's not entirely prepared for what he's gotten himself into. And of course he makes some mistakes. Or what people consider mistakes.

(Come  on, Marvel. We've all seen legacy heroes take up the mantel and the same costume. There's no need to call Miles' first use of the Spider-Man costume "in poor taste".)

But he's also got a good heart. He's heroic. And he's got the same love of adventure that made Peter enduring. Plus he's smarter and more introspective than any average thirteen year old.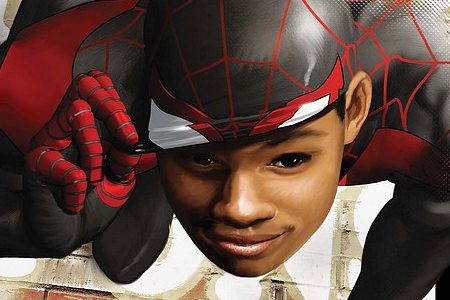 I really do love this picture.
So get interested in Miles Morales. Since he's the first My Heroes inductee with an ongoing story arc, you can get to know him as hes grows into a great hero.

That, and it has the greatest supporting character ever, Ganke.
This kid better get to become a superhero!
Trackback URL for this blog entry.
Jordan The Childish has not set their biography yet