Angel's Review!
I review anything Animated!
Home

Home This is where you can find all the blog posts throughout the site.

Categories

Categories Displays a list of categories from this blog.

Tags

Tags Displays a list of tags that has been used in the blog.

Bloggers

Bloggers Search for your favorite blogger from this site.

Archives

Archives Contains a list of blog posts that were created previously.
Angel's Anime Review - Bartender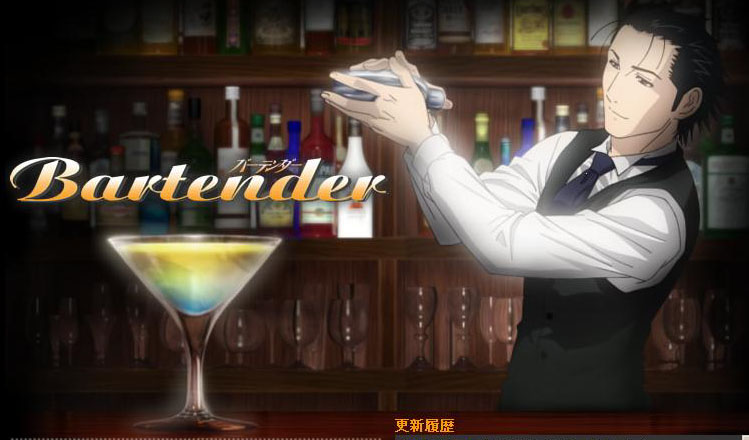 Bartender (Oct 15, 2006 – Dec 30, 2006)
Director: Masaki Watanabe
Drama,
Key Words: Slice of Life, Bars, alcohol,
Studio: Palm Studio

Episodes: 11
Ryu Sasakura is a bartending prodigy who is the best at figuring out what type of drink would be the perfect one for you. He works at a bar named Eden Hall, hidden within the Ginza district in downtown Tokyo. Normal people cannot find Eden Hall, they most be invited by the host. As the show goes on, those who are invited share their troubles and heavy burdens to Ryu who then makes them the perfect drink that caters to them, giving them hopeful advice to make their life a little happier.


My Thoughts: Do you like going to a bar to relax and forget the world? That's exactly what this show is about and the feeling I get from it. The first time I heard about this show was from Arkada from http://www.desudesbrigade.com and when I did hear of it, I thought that the main character would be mostly the focus and how he would get a lot of screen time but in truth, I was dead wrong and love it all the same. The main focus is not of the bartender, but of the customers giving each show its own cast, and own character screen time. In fact, even though some of the characters reappear in other episodes, they are not really anything but to relay some message that might not be known about the main character of that episode.

In each episode, the story line stands alone, nothing you have to remember from the last show and so your full attention is on the show right in front of you, giving you the same feeling as what the bar is like, where nothing from the outside world should interrupt you from enjoying the special drink.

There is almost no point in this story where it feels off-key and fantasy. The stories are very real, everyday problems that normal people would have. A woman who wishes to help break the tension between her father and grandfather, a man who works on creating bars but doesn't like them, these are the fears and dreams of so many different people, not just in Japan but all over the world. This anime seems to speak to you as an individual, not just to a wide number of people. They even go so far as to address the watcher, breaking the fourth wall as though you are with these people.

The animation is so beautiful. There is a lot of CG when it comes to the bottles and glasses but it never feels out-of-place. It feels a part of this art and never gets distracting from the characters. It's interesting that at first glance, you would never really see Ryu as anything special, just pretty much a standard Japanese character in a bartenders outfit. I truly love that about this show, the very simple and gentle feeling.
The ending is surprisingly very simple live action of a bartender creating a drink, mixed with a little CG and music video. This is one of the most beautiful and gentle ending I have ever seen and they made it different for every single episode, the drink being different for each one. It's so calming and gentle that I actually wanted to keep watching the ending, not speed past it. The cinematic camera angles add to the somewhat surreal feeling of just being in the current place at the special time. The music for the ending as well was so sweet that I want to get a single disc of it and play it as I fall asleep.

Now, when we get to the opening, I do have my problems. The opening animation is beautiful and amazing but the music seems to put me off a bit. I watched a couple of these in line and the music unfortunately felt a little too upbeat. It's not that it wasn't any good; it was just that it didn't seem to fit the feeling of the show.
At no part is there really a time that has no talking or music and only silence. All the music is orchestrated well and fits perfectly. There one song for every drink and each of them seem to reflect the story of that drink.

The voices, while expertly done by the Japanese actors, seemed a little off for me but I believe that was only because I am really not a sub type of girl. I will read subs while watching the English dub and see how close they were to the original but mostly, when they give me subs, I have a hard time with them since I have to read a little to fast. I fell into that with this show and so the Japanese voices felt distant and hard to get close to, but I feel if I was a native Japanese speaker, I would be much more into loving it. This is one that I really hope comes over to America to be dubbed and not 'fucked up' with a lot of script changes and high vocals.


Rating:

Five stars all the way! This is one that if you like slow shows and ones from the heart, I say watch it. If you're more into mechs, gunfights, fan service, and large explosions, you might want to stay away.

Link to Wikipedia: http://en.wikipedia.org/wiki/Bartender_(manga)

Other Reviews:


May Also Like: Mushi-Shi, Ristorante Paradiso,
Trackback URL for this blog entry.
I'm just a little girl in Oregon who loves anime. After watching a bunch of reviewers, I myself wanted to become one after seeing the love they all had to the anime they reviewed. I'm still a beginner so I'm open to learn if someone wants to teach.

At some point, I am hoping to create a podcast with a friend and will keep you up to date on that.